Looking for a little more academic rigor on the road to the Final Four? We've launched our fourth annual Metrics Mania, a competition designed to measure the research impact of American universities.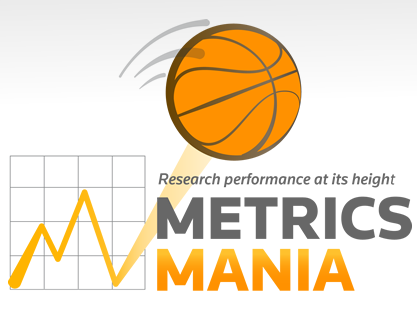 The competition takes the field of 68 teams that qualify for this year's March Madness tournament and uses the bracket to pit the schools against one another in a contest of another kind: to find out who is the most influential producer of scientific research. In 2015, Harvard knocked off Duke in the finals. Previous winners include Stanford (2014) and the University of California Berkeley (2013).
Winners will be identified by research derived from Thomson Reuters InCites™, the leading web-based research analytics platform enabling institutions to measure research output and impact, monitor trends, and benchmark performance against peers at the individual, departmental and global levels. Fans are invited to submit brackets with their predictions of the winners.
"March Madness is about to take the country by storm, and while Duke will look to defend their basketball crown, they're seeking redemption in Metrics Mania after falling to Harvard in the finals last year," said Jessica Turner, global head of Government & Academia at Thomson Reuters. "This year there are a record 460,000 Division 1 student athletes, and only a select few will go on to a career in sports. As an industry leader in evaluating the performance and impact of an institution's research program, Thomson Reuters InCites offers a unique perspective to see which schools are giving their students an inside edge when it comes to being part of a leading culture of science."
To follow the tournament on social media, stay tuned to the InCites (@InCites_TR) and Science Watch (@TR_ScienceWatch) Twitter feeds. To join the conversation, use the hashtag: #metricsmania.
Bob Stembridge, Customer Relations Manager, Thomson Reuters Innovation InCites, March Madness, Metrics Mania, Research, scientific research